The FIM Enel MotoE World Cup was back this week with brand-new built Energica bikes and a very motivated Tech3 E-Racing team for three days of intense testing at the Valencia circuit in Spain.
Thereby, both Hector Garzo and Kenny Foray were able to try several things with their new machines during open sessions, but also practiced starts and did an E-Pole, plus a race simulation on Wednesday. In doing so, Garzo topped the majority of the sessions, won the E-Pole and battled for the win in the simulated race until the last corner with a fantastic second position as a result.
With great achievements and many ideas, Tech3 E-Racing concludes the final pre-season preparations ahead of the first of six races, which will take place in just a few weeks' time at the Sachsenring, Germany.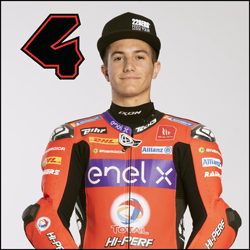 Position (Race): 2nd
Time: 1:40.132
Laps: 64
---
"We started with normal settings and found our pace quite early. We tried different shocks and tyres for the bike and found the way, that we wanted. The E-Pole was a really good test for that moment and finally, for the race, I think we have all the settings we want on our way. We have a decent base for Germany and for the start of the season with this bike. Everything is good and I'm really confident."
Position (Race): 2nd
Time: 1:40.132
Laps: 64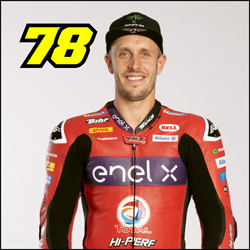 ---
"The first day was quite good, my feeling was there and for the E-Pole and the last session yesterday, we tried something, which was not so perfect for me, therefore my feeling was not ideal. So, we came back this morning for the race simulation. The feeling was there, but I started so far, therefore, I was not able to do the race I wanted. Anyway, I'm happy, because we were able to understand more session by session."
---
"With the end of the three days test for the MotoE in Valencia, we as Tech3 E-Racing are very, very happy about it. For sure, at first, I would like to thank Energica and Enel for their hard work by having everything ready for a full and strong test. It was great, to be back on track, but also amazing to see the bikes riding a complete race distance with the simulation. I believe it was also very interesting to try the E-Pole and all together it went well. The life of the batteries seems to be good enough without any dropping for a proper sprint race and for sure, I would also like to thank our whole crew and especially Hector for his fantastic job during these three days. He was fastest on day one and topping almost each session, he won the E-Pole and showed a very great fight with Eric Granado in the race simulation, in total he delivered a very good feeling for the entire team. Kenny, who is a rider with a bit more experience, I believe, has learned a lot from his young teammate and it is fantastic have such a great relationship in between our two riders. We've got a good team, we are happy and I believe MotoE will soon be a real part of the MotoGP championship and after what we saw in Valencia, I'm quite sure that the people at the Sachsenring will enjoy the very first MotoE race a lot. We still have a few things to prepare, but I think all of the MotoE field can't wait to be in Germany for the first official MotoE practice session."