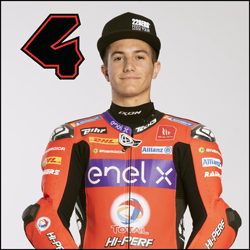 ---
Can you describe your first impressions of the first MotoE 'race'?
"Quite good! I did a great start and for being the first one, I think the bike is very good for a 'real' race. We can brake hard, overtake and push the bike to the limit. We can make mistakes. I'm happy, we thought it will very hard to pass other riders, but finally we were able to make a good step during the race. The bike is quite good for everything and I'm really satisfied."
Being on the electrical machine, what is the biggest difference to other bikes for you?
"The most important for me in the race is, that the bike has no sound and to hear the other riders, is really complicated. We need to wait for an overtake and rely on the board because all the race, I was not sure, if he is directly behind me or further away. I think this is the biggest difference. The rest, everything is normal; you can brake, accelerate easy, so it's totally ok."
How would you describe the performance of the tyres?
"Overall, they are very good, but for the race, I think Michelin has to work out a new allocation, because the last lap and a half, we need a bit more grip. But for the rest it's absolutely positive."
What does surprise you most about the Energica machines?
"The start! You must accelerate to 100 percent directly. It's really good, you start so fast, but I didn't expect it to be like this."
What do you think about the competitiveness of the field in general?
"I think we all know that it's just a six-race championship and we need to do good results. If this is not possible, it's very important to score points, because if you go home with zero in this championship, it's hard to recover. For sure, there are going to be riders, who are faster in one circuit than in others, which is the good thing about MotoE, as all the bikes are the same and we can show our riding skills at all tracks."
What do you expect for the first round in Germany and the Championship overall?
"The first feeling is good, because we had three long days of testing, although we didn't do too many laps. But for this bike, we have a lot of information and I'm very confident and happy, because I know how to ride the bike and how to push. I know the limit of the bike, know how to go fast and how to manage the situation in every moment. In my opinion it's positive to start happy and strong and I think we are going to make it."