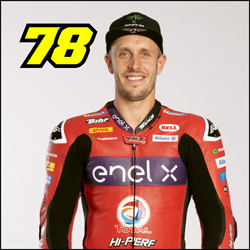 ---
Can you describe your first impressions of the first MotoE 'race'?
"It was good, although it's a true sprint race, as seven laps are quite short and this especially for me, being an endurance rider. At the same time, it's not easy to overtake other riders, because everybody has the same bike and for passing, you have to push a lot. Overall, it was good fun and I enjoyed it a lot."
Being on the electrical machine, what is the biggest difference to other bikes for you?
"First of all, the weight. At the moment, I still struggle to brake the right way with this heavy bike. I still need to learn and understand this. Also, the sound is very different. I took off my earplugs, because then I can hear the battery, but apart from that it's really similar to other bikes."
How would you describe the performance of the tyres?
"It has been truly positive. I know Michelin from the French Superbike class, so I didn't have any issues to adapt to it. In total, they work really good."
What does surprise you most about the Energica machines?
"I have to admit, that overall, I'm not surprised. It's a pleasure for me to be here and I knew what was happening when I came here. The biggest surprise is probably Energica. They were able to rebuild all the bikes in just two months. This is very incredible! But apart from that, I knew before that it would be great races, a good championship and an interesting bike."
What do you think about the competitiveness of the field in general?
"I think some riders understood directly how this bike works and other – like me for the moment – still need to learn more. It's not easy and I can't really explain it. After all, I don't know this track perfectly, I was never racing in Valencia and sometimes, you just have to work a bit more as you have to learn the bike and the track at the same time. It's hard, but I learn a lot and gather more experience with each lap."
What do you expect for the first round in Germany and the Championship overall?
"Before this test here and the first race simulation, I was wishing for lot more. But now, I have to be realistic and I think if I can make a top 10 in the first race, I will be happy. All depends on my feeling on the bike. If I can improve at the Sachsenring, I think we can expect good things. My teammate is really fast and we are on the same bike, so I guess normally we can do the same thing."
"