Following a sensational lap of 1:35.028 minutes this morning, Tech3 E-Racing's Hector Garzotook over the Free Practice top spot of the FIM Enel MotoE World Cup. Later this afternoon, the Spanish youngster managed to show a fast pace again, but missed out on the front row by a small margin of 0.079 seconds to eventually start from sixth position.
Meanwhile, Kenny Foray lowered his Friday's best time by 1.211 seconds in Free Practice 3 this morning and did his fastest first lap on the flying lap during the E-Pole, which makes him starting the second ever FIM Enel MotoE World Cup race from 15th position tomorrow at 10:00 local time.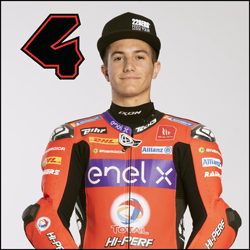 Position: 6th
Time: 1:35.390
Laps: 1
---
"We started the day with a really strong Free Practice 3. For sure the objective today was to have the bike ready for tomorrow's race and we did it. We have a good rhythm and the setting of the bike is perfect. In the E-Pole, you never know what's going to happen. For sure, I'm happy because the second row is a decent base. I'm quite sure, that we'll fight in a big group tomorrow. We are really close. I don't care about sixth position, because I'm close to the front, ready to fight and I know there is a good chance. I have to keep concentrated for tomorrow and I'm proud on the work we did today. I think we are ready to fight for the podium."
Position: 15th
Time: 1:37.500
Laps: 1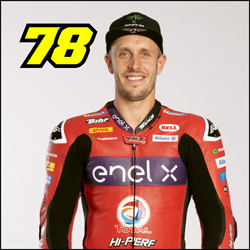 ---
"The E-Pole was not easy, but I knew it before, because my feeling is just not good enough yet to make one very fast lap directly. Overall, it was not as bad as it looks, as it was my fastest first lap this weekend, but still this is a weak point of myself. I need to learn a lot and to push more for a strong lap time next time in the E-Pole. For the moment, I just can't manage to do anything better, but it's like it is. We learned a lot during the race in Sachsenring, so I hope for a good start tomorrow and then we will see."