Today the FIM Enel MotoE World Cup started the second race of its young history on a wet Red Bull Ring. Due to the conditions, the second round was cut to five laps, whereby Tech3 E-Racing's Kenny Foray showed a decent performance. Following his start from P15, he lost a few positions in the traffic of the first corner and crossed the line in 17th after the first lap. Step by step, he made up positions to finally end up in 11th.
On the other side, Hector Garzo started the race cautiously, keeping his sixth starting position over the line of the first lap. Meter by meter, the Spanish youngster got more confidence and fought his way towards the top. While trying hard to take over the lead from Mike di Meglio, he unfortunately slipped away on the wet curbs and crashed out.
Position: 11th
Championship: 15th
Points: 7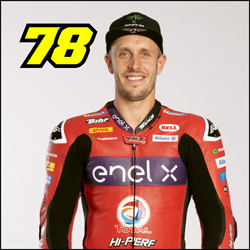 ---
"It was not an easy race, because you don't know the bike and the track on the wet and you have only five laps, which means you have to push from the very first second on. But overall, I'm really happy for that. Like I said yesterday, it's hard for me to push to the limit already in the first lap and in the end, it was not so bad. My feeling was good in the wet, I was just blocked in the first corner and ended up last. So, I started to pass one by one, but then the gap to the top was already too big to come back, especially in five laps. It's quite good. I learn race by race and we will see for the next."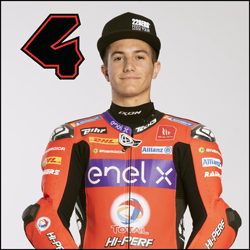 Position: DNF
Championship: 8th
Points: 13
---
"This morning I woke up with the ideas on the race really clear. We knew from the forecasts that we will have a wet race and finally it was. On the last lap, I was trying to catch Mike. I had a really strong pace during the race, going to the limit in nearly each corner, I had many scary moments, but this is racing. I tried to win until the end and did a little mistake in turn four of the last lap. Anyway, we must be happy, because our race has been really good, our weekend was build up to win. For sure, this is racing and for me it's learning and learning. I'm disappointed, but I tried until the end and that's important. Thanks to the team, thanks to everybody, that is pushing me from home. We'll see what we can do in Misano."
---
"It was a very disappointing last lap of the MotoE race. Hector did a great race, unfortunately. The start was not ideal, but I think he was cautious, checking the grip conditions as it was the very first time for him on the MotoE bike in rain, so we knew there was a god possibility of a very good result, because he likes this weather normally. He just proved us right, but I think, it's always a fine line in between being a hero and being a zero. He was having second in his pocket, was right behind Mike. It's always easy to comment from the pit wall. Maybe it would have been wise to collect many points, but the possibility of win was there, because he was clearly faster. I think he badly wanted that win and maybe a bit too much. A great shame, because everybody is working hard and we know Hector can be a front guy, but two races without podium and a DNF are disappointing. On the other side, Kenny rode a steady race, ended up 11th, which is good. Today for him it was a matter of understanding more the bike and especially these conditions and staying on the wheels, which is what he did. So, good job by Kenny. I'm sorry for the whole team, this is not what we were expecting, especially because everybody was already cheering for an almost sure podium for Hector."