With another stunning performance, Tech3 E-Racing's Hector Garzo fought to second again at the San Marino GP today, which makes him moving up to second in the overall standings of the FIM Enel MotoE World Cup. The fast Spaniard was starting from eighth on the grid and found his way quickly through the field in the course of the seven laps round, fighting for the podium from the third lap onwards.
On the other side of the Tech E-Racing garage, Kenny Foray was still suffering from his heavy highside crash yesterday, but grit his teeth and finished the race bravely with two points in P14 ahead of the final round of the FIM Enel MotoE World Cup in November within the final MotoGP event at Valencia, Spain.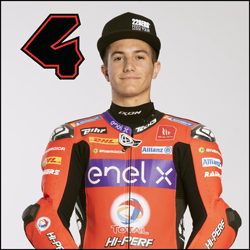 Position: 2nd
Championship: 2nd
Points: 53
---
"I'm very happy about two podiums in a row. We tried to fight for the victory today, but it was not possible and after the crash of Austria, we learned the lesson and we tried to keep the second position, which is very good for the championship. Now I'm happy because we are going to my home track next and we have two races again. I'm sure that with my team and our great work, we can give everything there."
Position: 14th
Championship: 18th
Points: 9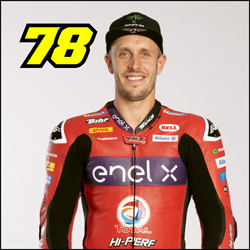 ---
"It was a difficult race, for sure. I think it would have been possible to do something better, but after the crash of yesterday I didn't feel very confident and the bike is completely new, so we needed some laps and without Warm Up it's difficult to check just on the out lap. I was riding safe for two, three laps and afterwards it was too late. Seven laps are not long, finally it was ok, the bike and my body, but we unfortunately lost one race."
---
"The second MotoE race of the weekend here in Misano and another great result, another second position, which is lifting Hector and the Tech3 E-Racing to second in the ranking, which is great, considering all the ups and downs we had so far. It's always difficult to start from row three and do a great race with such a small amount of laps, but Hector did good, used his brain. Coming out of here with a second position in the championship with two races to go, anything is possible. On the other side, I have to thank Kenny for gritting his teeth and managing to ride today, because he was in a lot of pain after the heavy highside he had yesterday. He got a few points. Overall, we are proud of our two guys in the MotoE class and we just can't wait to be in Valencia, which is the home circuit for Hector and as I said before, anything is possible. Thank you Hector, thank you Kenny, thank you to the whole crew, who has been working incredibly hard and late at night. See you in Valencia!"