The first race of the FIM Enel MotoE World Cup saw Tech3 E-Racing's Hector Garzo showing a great performance to finish second. The local hero was fighting strong, coming from fifth on the grid to find himself in P3 after just the first lap of the sprint race. In the remaining laps, he was fighting hard with Bradley Smith and Eric Granado for the top and eventually came home second, which makes him closing the gap to series leader Matteo Ferrari to 12 points and gives him another chance to fight for the title in tomorrow's second race at 15:30 local time.
At the same time, Kenny Foray did a steady race. After qualifying in P17, the Frenchman kept his pace for the seven laps and improved his lap time towards the end, although he was already missing too much time to P16 to catch up again, so he finally crossed the line in 17th.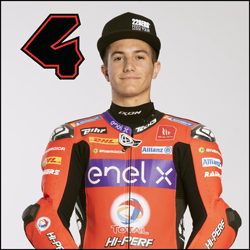 Position: 2nd
Championship: 2nd
Points: 73
---
"From the beginning, I felt really confident with the bike. In the first lap, there were many overtakes with Ferrari and Simeon, but I tried to leave them behind me and go for Smith on the top. When I saw my lap time, I was surprised, to be honest. I felt good, the bike felt fantastic in every corner of the race, so thanks to my team for that! Smith was fighting with me for the Championship, so it was not easy. Anyway, I wanted to try to catch Granado to make up more points, because I'm still missing too much to Ferrari. Overall, I'm really happy for this second position, but the target was to win, so we will try this again tomorrow."
Position: 17th
Championship: 18th
Points: 9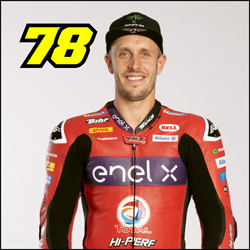 ---
"This race was really difficult for me, because I didn't have any confidence. During the first two laps, it was difficult to find my pace and later it was too tough to come back. We have another race tomorrow and I hope that I can stay with the last group there. I know, I can do it, it's just not easy, especially, when you are not confident on the bike. This season was quite hard for me, so I hope we can have a decent final race on Sunday to end it on a high note."
---
"That was a fantastic race from Hector for the Tech3 E-Racing team. We were really thinking and hoping he was going to win that race, because the pace was unbelievable. He set the fastest lap twice in a row with 1:40.0, so that was really, really fast, but unfortunately, once the two fastest guys, Granado and Hector were finally in front, Smith disturbed Hector's strategy and that allowed Granado to open a small gap and then Hector was left fighting with Bradley. Ok, he got the second position, but we needed that first win, we needed that 25 points in order to have a better chance for the Championship tomorrow. Still we reduced the gap to the leader, it will be tough, but it is possible and as usual we never give up, push until the very last race and the very last lap to keep the dream alive, which is what we are going to do. A big thank you to Hector. Today he was clearly the fastest guy on track, but sometimes the fastest guys doesn't win. On the other side, Kenny did a steady race, it's not the class where he excels more, but I'd also like to thank him for his commitment all year long. There is one more race to go and we can hopefully celebrate something big tomorrow night."