Tech3 E-Racing's Hector Garzo grit his teeth in today's final round of the FIM Enel MotoE World Cup in Valencia. After he was seventh by the end of the first lap, the Spaniard fought back strongly to arrive in P3 even before half race distance, a position, which he defended successfully until the finish line. Following a disqualification from yesterday's race, Garzo lost the chance to fight for the Championship, but eventually finished fourth overall.
At the same time, Kenny Foray had a good start to the seven laps sprint race and managed to place himself well inside the top 15. The experienced Frenchman showed a consistent race to finally see the chequered flag in 14th position, taking home two last points from this season to finish the brand-new FIM Enel MotoE World Cup in P18 overall.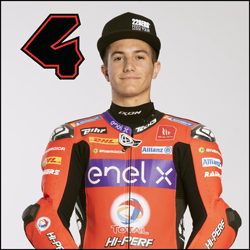 Position: 3rd
Championship: 4th
Points: 69
---
"I'm really sad and disappointed, because this weekend was very important for us. We were working really hard. Yesterday I was angry, when we found out that the tyre pressure was not correct, but it was not our fault. Anyway, that's racing. I tried my best also in this race, but the first corner was difficult, plus these conditions where not easy and there have been some crashes in front of me. But finally, I got the podium, which is good. We are not in the top three of the Championship, but we must be happy, because we did a really great first MotoE season. I have been fastest in many races and I'm really thankful to my team for that, because they gave me a perfect bike everywhere. Thanks to Hervé Poncharal, thanks to all my team, my family and sponsors! We will be back next year!"
Position: 14th
Championship: 18th
Points: 11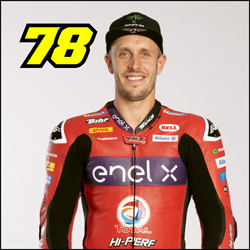 ---
"It was not an easy weekend, but my goal was just to finish the races. I understood, that this category was a good experience, but at the same time, it was never easy for me. I couldn't enjoy riding and it was difficult to understand. It felt like all the rounds I was just needing more laps to get used to it. I would like to thank all people in Tech3 for this opportunity. The beginning of the year was not so bad, but after the last race, I understood, that it's not a class, where I can do great things. I'm happy I was able to try it, but now I want to set my focus back on Endurance. Thanks a lot to all the team!"
---
"Another great race from Hector, who was on the podium again. We have been battling all year long against the odds. I think Hector was clearly a title contender and we didn't win the title. I would like to thank him for his dedication, for his never-give-up-attitude, I would also like to apologize, because we had a very bad issue last night, which was not due to the team not fulfilling their job, not due to any way of trying to take advantage of some technical settings. I don't really understand why, but we started with a bit lower pressure, which was out of our hands. We understand, the rule is the rule and clearly, we would have been second in the Championship and now we are only fourth and Hector deserves better than that. Unfortunately, this is part of racing. I would like to thank him and I'm truly glad, I have the possibility to retain him for next year. 2020 will be another hot season, where we are clearly targeting the title. Kenny did a good season with us, but he decided to part way with Tech3 and MotoE, because definitely he prefers his 1000cc fuel engine endurance machine and we are now trying to have somebody, who can be a strong teammate for Hector. Again, apologize to Hector and thanks for his positive attitude. It was a nice year one for the MotoE Championship."