Today marked a return to racing for the Tech3 E-Racing duo of Tommaso Marcon and Lukas Tulovic following a long track absence. Thereby, the two FIM Enel MotoE World Cup riders managed to recover their feeling aboard their Energica Ego Corsa machine at the Circuito de Jerez-Angel Nieto, concluding the three sessions in P11 and P16 respectively.
The first round of the FIM Enel MotoE World Cup will commence this weekend with the first Free Practice for the Gran Premio Red Bull de España at 11:50 local time this Friday.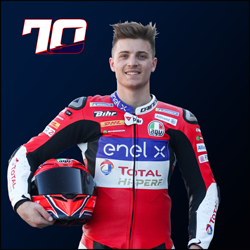 Position: 11th
Time: 1:49.974
Laps: 28
---
"It was a very hard day today, because just some days ago I twisted a ligament in my right knee and it gave me some pain on the bike. Therefore, I had to find different solutions to sit on the bike, but now I'm starting to ride a bit more normal, although I still don't have the same feeling with the bike due to my knee. Yet, we improved throughout the day and in the last session we did a quite strong lap. Now we can relax a bit and on Friday we will finally be ready to start the first race weekend of the season."
Position: 16th
Time: 1:50.383
Laps: 23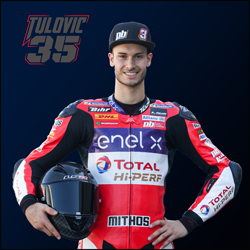 ---
"It's a long time ago, to be accurate four whole months, that we had the last test with the MotoE, so it was really difficult to come back and start again. After a few laps and session by session, we improved and the lap times became better and better, although we are still not at the level we left the three days test here. But we are on a good way. I have a good feeling with the bike, I only need to understand how to enter and exit the corners better with the electric bike. Anyway, we have three more practice sessions, I feel quite good and confident for the weekend. Now I'll stay together with the team, analyze everything and then we are ready for the race weekend."
---
"This has been a very useful and productive day today for Tech3 E-Racing, because we got two rookies this year – Tommaso Marcon and Lukas Tulovic – and for sure, they need a lot of laps. It was important to have these extra practices today in order to be readier for the race weekend. I think both, Tommaso and Lukas made great progress on how to handle an Energica MotoE bike. Each single lap, they enjoyed it more and more and I'm very happy that they reduced the gap to the top guys a lot. Clearly, this was a very positive day and I would like to thank the whole crew, Tommaso and Lukas for their dedication. Let's start the first race weekend on a good foot!"