Following a first heat test on Wednesday, Tech3 E-Racing and the entire FIM Enel MotoE World Cup field was back on track today for the start of their first race weekend in 2020 with two Free Practice sessions.
Thereby, Lukas Tulovic managed to improve his lap time from Wednesday right out of the box in FP1 by 0.812 seconds. The German concluded day one on P12. Yet, Tommaso Marcon kept on working towards the first race this Sunday, finishing 0.738 behind his teammate. The MotoE will be back on track at 11:50 local time tomorrow for FP3 ahead of the all-important E-Pole in the afternoon.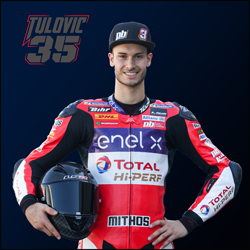 Position: 12th
Time: 1:49.571
Laps: 14
---
"For the first official practice day, I'm quite happy. We made a good step directly compared to the test, mainly on the setup. So thank you to the team, they did a great job and I feel a lot better with the bike now. In FP2 it was a bit difficult to improve with the used front tyre, but compared to the others it's not so bad. I think when we come back tomorrow and I feel good again, we can do a decent FP3 and a good first E-Pole of 2020."
Position: 15th
Time: 1:50.309
Laps: 14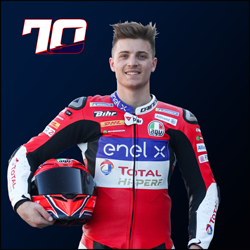 ---
"The first session this morning was a bit of a warm up session for me and for my knee. This afternoon I intended to push more. We put a new tyre in and I managed to do a really good lap with the bike, but unfortunately, I went down in turn 11. Effectively, I just did two flying laps in the end, but anyway, we know that we can be very fast and we aim to prove that tomorrow."