With a rocket start off the line Tech3 E-Racing's Lukas Tulovic managed to take over the lead of the FIM Enel MotoE World Cup in the first sector, but had to fight hard against the experience of his contenders. By the end of the short cut six laps race, the German youngster missed out on the podium by just a fraction, ending up in a strong fourth place.
Meanwhile Tommaso Marcon was able to improve on his 15th grid position in the course of the first lap to P14. With a decent pace, he managed to eventually see the flag in P13, but was progressed to 12th after the race, taking home four precious points from his premier MotoE race ahead of the second round in less than a week's time.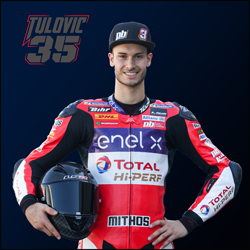 Position: 4th
Championship: 4th
Points: 13
---
"At the end of the first race weekend, I'm really happy to have made such a good step and gained a front row start for the first race. I didn't expect that and I really have to say thank you to the team. They did an amazing job and gave me a very good setup. I felt really comfortable on the bike. In the race itself, I had a truly good start, I was first in the first corner, but then Eric (Granado) was coming and his pace was incredible. I couldn't follow. Later I was with Ferrari and Aegerter in the last lap. I was sliding way too much on the exit on the last lap, which is why I couldn't attack in the last corner. Unfortunately, it was not the podium, but I'm really happy to be in fourth position in my first race. Next week we have another chance."
Position: 12th
Championship: 12th
Points: 4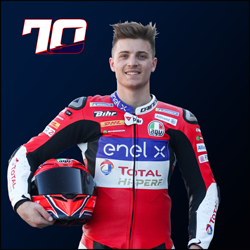 ---
"The first race is done and I was struggling all the weekend, because I didn't understand how to ride, especially with my injured knee. But in the race, I felt better. I improved my lap time by one second and I think we can stay in front, we just need to start closer to the front, because at the first corner I was really careful, as the bike is quite happy and didn't want to destroy the race early. Also, Hervé told me to keep calm, as it's the first race. After the first corner, it was going well. The target for the next weekend is to start closer to the front, because then we can also stick with the top guys."
---
"This has been a great weekend for the Tech3 E-Racing team here in Jerez for the opening round of the 2020 season. We were really surprised to see Lukas, our rookie fighting for pole and ending up second fastest in Qualifying. That was a great feeling. But for sure, we were still a bit worried for the race and he was also a bit worried, because the night was not very comfortable for him as there was quite a lot of pressure. It's a very special race. Six laps are a real sprint race and in fact, he did more than well. He has been working like a very experienced rider, although he is a rookie. His start was perfect, his pace was great. Clearly, Granado has another rhythm than the whole field, but then the battle for the second in between Lukas, Ferrari and Aegerter was very intense. Unfortunately, he lost the battle for the podium, but I'm not sad at all, because the top 5 were almost a dream when we arrived here and to end up fourth, so close to the fourth is amazing. We've learned a lot, so it's a sweet feeling today. I would also for sure like to talk about Tommaso, who struggled a bit in Qualifying. He was a bit too aggressive and watching his E-Pole lap last night helped him a lot to improve. He made a big progression. His race pace, all his race laps were almost a second faster than his Qualifying lap, which shows that he has been improving a lot and to end up in 12th position, making four points I think will give him a big boost for next week, so again congratulations to Lukas and congratulations to Tommaso. We are very happy to have these two rookies, who are very different from each other, but make a good team. Also, a big thank you to the technical crew, as the conditions are really difficult, really hot. They never gave up and I think they gave a super good bike to both of our riders. So, thanks, enjoy Sunday evening and don't forget we have a race in a few days!"