Following a great first FIM Enel MotoE World Cup weekend, Tech3 E-Racing's Lukas Tulovic was back in strong form this afternoon to conquer another great front row start for round two tomorrow at 10:05 local time.
After he progressed to P10 in FP3 this morning, the German did another huge step in the scorching heat of the E-Pole to do a fastest lap of 1:48.525 minutes, which made him ending up in a fantastic third position. Meanwhile, Tommaso Marco also improved significantly in this morning's Free Practice session, but was caught by bad luck in Qualifying. Due to a technical issue, he missed the time window to go out on track for his E-Pole and has therefore to start from P16 on the grid on Sunday.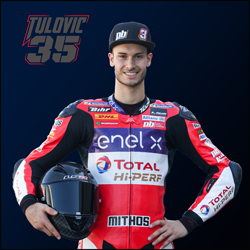 Position: 3rd
Time: 1:48.525
Laps: 2
---
"I'm really, really happy again with this unexpected Qualifying. We've been struggling a bit in the Free Practices. We tried something on the setup, but it wasn't the correct way, so we came back to last week's settings. During the E-Pole I saw the data, compared a bit and thought to push more on the break, which I tried. One or two times, I went a bit wide, which is why I messed up the first sector slightly, but then I was pushing a lot and the lap time eventually was so good! I'm really happy for this. Tomorrow we'll try to do a good start again and stay with the front guys during the race in order to get a good result for the whole team."
Position: Not classified
Time: -
Laps: -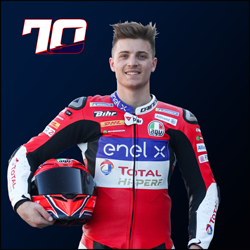 ---
"This morning, we've made a good step and managed to do a decent lap time. We have been fast and I felt we had everything together to do a strong E-Pole. But my bike didn't start and I couldn't do the Qualifying, so I will start from P16 and try to come back towards the front as quick as possible."
---
"Today I am very pleased to see Lukas Tulovic for the second time in a row on the front row. This is a great achievement and I would like to congratulate him and the team. But I would also like to say, that I am not happy and I think this is not correct, what happened to our second rider Tommaso Marcon. His bike had a defect and couldn't start. Then by the time, the Energica guys came and found out what was wrong on the bike, Tommaso entered the E-Pole gate with the red light. Therefore, he was black flagged and I was honestly hoping that he was going to be given another lap to go, because I think this would have been fair, but unfortunately that was not the case and we were denied to do one lap. We've been here for a week, waiting to do our one lap E-Pole and we were denied to do this, that was completely outside of our responsibility and I would just like to say that I'm not happy and I don't think this is the right behavior towards our rider."