The second FIM Enel MotoE World Cup race emerged as a tough one for Tech3 E-Racing today in Jerez, but Lukas Tulovic tried his best to bring home as many points as possible.
Following his start from the first row, Tulovic got mixed up in a group fighting for the top spot, but was pushed wide already on the first lap, which made him loose several positions. Mounting back from 10th, he eventually saw the chequered flag in sixth place, which means important 10 championship points for the German.
Tommaso Marcon go off a good start as well from P16 and already made up three positions in the first corner, but unfortunately went down in his chase for a decent result in turn six of the first lap. Luckily, he escaped without serious injuries.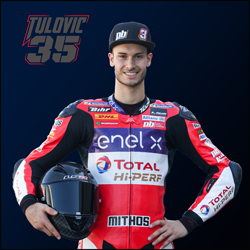 Position: 6th
Championship: 5th
Points: 23
---
"The race went a little bit under my expectations. But it wasn't my fault, I was pushed wide at the back straight in the first lap from Granado. I don't know what his plan was, but he was way too late on the brake and we both went wide and I lost six positions there, which is really hard in a short race like this. But I managed some good lap times, was even faster than in Qualifying and got some positions back. Unfortunately, I didn't have the speed in the end, to fight for the podium, but ending the race in sixth position after this first lap is ok. We take home good points for the championship, I learned some things for the next races to improve my speed a bit with the used tyre and also to be more consistent. We have to work a bit on the rear grip, but for the championship it's ok. Anyway, it would have been nice to be in the fight for the podium without the incident in the first lap."
Position: DNF
Championship: 17th
Points: 4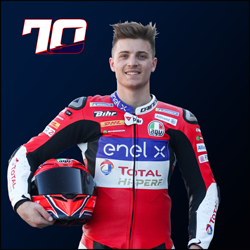 ---
"My race was quite short, only six corners. I tried to do my best to get further to the front. In turn six, I crashed and I didn't feel like it was my fault, but apparently, I made a mistake. So, I'm sorry for this. The bike of another rider hit my back and it hurts quite a lot, but luckily it seems that there are no serious injuries. For sure, we will try to be a lot stronger in Misano."
---
"Another positive weekend for Tech3 E-Racing. Qualifying went well for Lukas, he got another front row and with it two in a row, which is great for a rookie. Bad luck for Tommaso, but we knew he had the pace to do a decent race, although the grid position was very far down. Lukas had another great start, but in the middle of the first lap, the fight was very intense and he was pushed outside, but in a clever way, he didn't try to stay as we saw with this big bike you can't play too much. So, he just went outside, lost a lot of positions and came back to the track in P10 and managed to recover to P6, which is good. He is fifth in the championship now, but we got to score points everywhere. It's a rookie season for Lukas and there are a few older and more experienced guys up there, but we are definitely very close, we just need to have a bit more of race craft. Overall, it was definitively another good job from Lukas, congratulations for his hard work. Bad luck for Tommaso. When you start on the last row for a six laps race, it's always a tough job. He was doing a good first lap, was pushing and unfortunately, he's been touching somebody else and went down. I also would like to thank him, especially after what happened yesterday, which was absolutely not his fault and he should have been on a better grid position. Anyway, this is the past. We have to carry on working, we are happy with our two guys ad we need to put our heads down and prepare the next round in Misano."