Tech3 E-Racing's Lukas Tulovic showed a great improvement during today's FP3 and E-Pole and managed to lower his fastest lap time from Friday by 0.765 seconds during the third round of the FIM Enel MotoE World Cup at the Misano World Circuit Marco Simoncelli. He missed out on the top time by just 0.447 seconds and went fourth fastest in the E-Pole, but will start tomorrow's race from P3 in the first row of the grid due to a penalty of another rider.
Meanwhile Tommaso Marcon made some impressive steps throughout the weekend as well. In the decisive E-Pole he went 1.492 quicker than in FP1 on Friday. With a fast 1:44.269 the local hero qualified in eighth, which means he is set to start tomorrow's seven laps sprint race at 10:05 local time from the third row of the grid.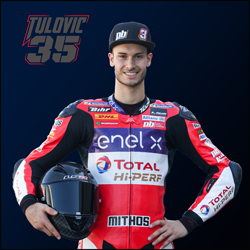 Position: 4th
Time: 1:44.027
Laps: 2
---
"My target was to make progress during the sessions and it fully went to plan. So, during the Free Practices we went faster each time and made a decent lap in FP3 in order to gain a good base for the E-Pole. With my E-Pole I'm not completely happy, because I thought I can go 0.1 or 0.2 seconds faster. But still my position is quite good, I'm really happy about that. Thanks to my team for giving me such a great bike to do this lap time. I'm looking forward to fight tomorrow in the race."
Position: 8th
Time: 1:44.269
Laps: 2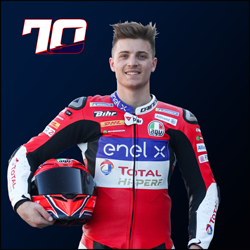 ---
"This was my first real E-Pole, because the first one in Jerez was quite difficult and the second one there I didn't start right. So, finally here I managed to do a good lap, although I had a minor wobble at the exit of the last corner, which cost me two positions. But for sure, it's better than what we made in Spain. We keep improving and working step by step. So, now our focus is fully on tomorrow."