The third race of the FIM Enel MotoE World Cup was an intense one for the Tech3 E-Racing team today but both Tommaso Marcon and Lukas Tulovic scored significant points at the Misano World Circuit Marco Simoncelli.
Starting from P8 Marcon came away well and even fought to P6 in the early stages of the sprint race. Although he dropped to ninth, he brought home his best result yet in the MotoE class. Meanwhile Tulovic launched off from the front row, but went outside of the track on the first lap which meant he needed to regroup further in the back in the field. Yet he managed to take four points in 12th.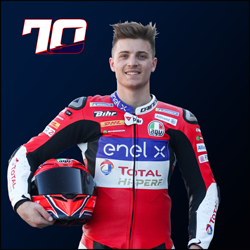 Position: 9th
Championship: 13th
Points: 11
---
"The race for me was quite difficult. It was not easy to stop the bike this morning and I wasn't expecting that. So, I was fighting hard and in the last lap, I lost a bit of power, so I couldn't defeat myself. I'm sorry for the team, for all the people here and for myself as well, because this race was not what I planned to show here at my home track."
Position: 12th
Championship: 7th
Points: 27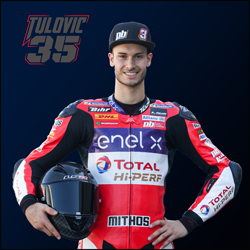 ---
"After such a great weekend so far, I unfortunately couldn't earn the points we could have. I'm really disappointed for that. I had an impressive start, my reaction time was great, so I was directly next to Casadei on the first corner, but I didn't know where to brake, so I went second into turn one and then I had some issues with my brakes. So, I was really struggling to stop the bike during all the race and I don't know why yet. We will analyze this later in the data. Then I went wide two or three times and lost too many positions. In the end, I just made the best out of it and finished the race with a few points, but not as many as we were expected. Next week we will have two more chances."
---
"After the great Qualifying performance from Lukas and the best Qualifying performance also from Tommaso, we were very positive and very confident for a strong race here in Misano, but unfortunately, the race is very short. Although Lukas one more time had a great start, he came wide and lost a lot of positions and it was too late to recover. For sure, it was a disappointing result, when you are third on the grid and you end up 12th, you can only be disappointed. The good news is that we have two more races next week and we have to learn from that. Clearly, we need to be more aggressive in the first lap. I know it's difficult with these heavy bikes, but this is the way to do. I wish to congratulate Tommaso, because although he is not very happy with P9, this was clearly his best weekend so far in MotoE. He's got to learn, there are many more guys, who have more experience than him and we are happy with his performance. We are happy with how the team is working. For sure, it's not the result, we were hoping for, but clearly, we have more to come next week. Let's keep our heads down, keep the positives of this weekend and be stronger next week."