Tech3 E-Racing's Tommaso Marcon displayed a strong performance on the opening day of proceedings at the Gran Premio dell'Emilia Romagna e della Riviera di Rimini. He managed to lower his lap time from FP1 to FP2 by 0.83 seconds to end up just half a second behind the leader in P6. At the same time, Lukas Tulovic improved by 0.393 seconds throughout the day and concluded Friday just 0.240 seconds behind his teammate in ninth position overall.
For the first time this season, the FIM Enel MotoE World Cup will start Saturday directly with the E-Pole at 11:45 local time, which is set to decide the starting grid of the first race tomorrow at 16:15 local time. The race results of the first race will however determine the grid for race two on Sunday at 10:05 local time.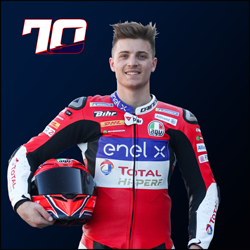 Position: 6th
Time: 1:43.445
Laps: 17
---
"This morning FP1 was kind of a Warm Up session for me, as we didn't ride for four days. In FP2, I started with used tyres. We were working with that, I was working on my riding style in order to improve for the race. Later, I put in new tyres, we did a small change on the bike, I managed to ride a bit smoother and finally, the time came. Now we need to stay focused for tomorrow's E-Pole and the first race. A huge thank you to my guys for their great work."
Position: 9th
Time: 1:43.685
Laps: 16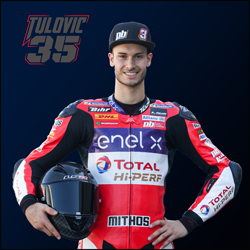 ---
"I'm not really satisfied about today. We made a progress, also in lap times and managed to get the 1:43s quite fast in FP2, like expected. Finally, it was not enough. I felt, I could do more. So there is still potential and I'm a bit angry to not be faster and making small mistakes in many corners, which cost me the better lap time. For tomorrow for the E-Pole and the first race it's really important to bring everything together, to focus, not do mistakes, to be faster and just improve overall."