The first race of the FIM Enel MotoE World Cup of the weekend at the Gran Premio dell'Emilia Romagna e della Riviera di Rimini got underway today and delivered an intense outcome for the Tech3 E-Racing team.
After qualifying in twelfth, Tommaso Marcon had to avoid a crash in the opening lap, but managed to stay upright and recovered several positions with each lap. Finally, the local hero saw the flag in fifth. His Tech3 E-Racing teammate Lukas Tulovic started from the second row, but suffered a nasty highside in turn two of the first lap. Thereby, he suffered a broken third metacarpal bone on his right hand and some bruises on his right ankle. Tomorrow morning, the doctors will decide if he can take part in race two, which starts at 10:05 local time on Sunday.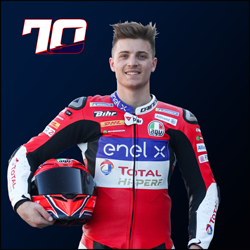 Position: 5th
Championship: 11th
Points: 22
---
"This was quite a crazy race. It was very easy to crash and at the start, I had a problem with another rider and after two corners my teammate crashed. Later on, I found my pace, two more riders went down in front of me and I managed to see the flag in P5. Today's target was to finish the race, because it very hard. Tomorrow we will start in P5."
Position: DNF
Championship: 8th
Points: 27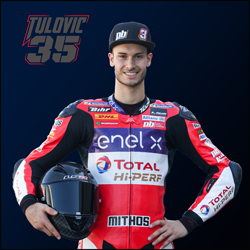 ---
"Honestly after the race I don't care so much about the result, I'm just super happy, that nothing more happened. After another amazing start, I entered turn one in the inside and in turn two I was on the inside. One or two riders passed me there and I didn't want to lose any more positions, so I was a bit next to the line and I opened the throttle a lot, but not totally crazy. I didn't expect that this would make me crash, but suddenly the rear locked and I had no possibility to stay on the bike. Anyway, I was really, really lucky. I had a highside in turn two, looked behind and saw the other riders coming and I was just hoping and praying, they can avoid me. I'm really thankful that I'm more or less ok. I'm of course sorry to the team for the result and the damaged bike. I will have to wait tomorrow morning to see how the pain will be on my hand, my ankle and the hips."
---
"We were expecting a lot from this MotoE race here in Misano, because the practice was quite good. Although Lukas got a great start, he unfortunately highsided right after the first corner, which scared us a lot, because he was in the middle of the group. Fortunately, nobody hit him hard. He has a little problem with his right hand and we need to see tomorrow in the medical center if he is fit and if he will try to ride race two. This is a great pity, because he did another great E-Pole, but I think he wanted to be a bit more aggressive on the first laps, having seen the previous races and unfortunately, that didn't pay off. On the other side, Tommaso, who almost run on him, managed to get by far his very best result of the year by finishing fifth. So, I'm very happy for him, because he has been working hard. He doesn't have any other championship to ride aside, it's not easy for him and he is very committed and we can see that he is improving a lot in terms of attitude, riding and speed. We just hope and wish Lukas a very good night. We hope he is going to recover and we will see if tomorrow he is in a position to ride or not. This is unfortunately part of racing. We saw there were many crashes today. We will see tomorrow."