Although he sustained a broken metacarpal bone on his right hand in yesterday's crash, Tech3 E-Racing's Lukas Tulovic lined up for the second race of the Gran Premio dell'Emilia Romagna e della Riviera di Rimini in the last row of the grid today. He bravely grit his teeth to ride solid seven laps and eventually see the flag in 15th, which means he took home one important championship point.
On the other side, Tommaso Marcon started well from fifth and was fighting his way towards the front on the opening lap. With a slightly over motivated try to take over third, he unfortunately ended up his chase for glory on home turf early in turn two of the second lap.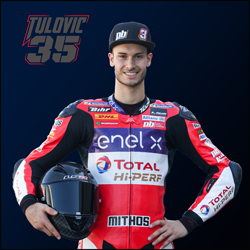 Position: 15th
Championship: 10th
Points: 28
---
"One point more in my pocket. I have to say a huge thank you to the doctors here in the Medical Center and to the guys of Clinica Mobile, because they did a great job! I was able to ride and I tried to do the race. Already on the sighting lap, I saw left corners are easier, braking is ok, but the right corners were more difficult, like the changes of direction and opening the throttle. So, I knew I maybe have to change my riding style a bit. I was careful at the start, just followed the field and tried to stay behind the group, but step by step I was falling back and I couldn't do anything about it. In the end, I got one point, so it was worth the fight. I will come back stronger in Le Mans!"
Position: DNF
Championship: 15th
Points: 22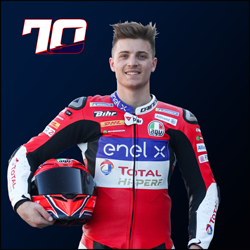 ---
"My race was finished after just one full lap. I tried to overtake Casadei, but unfortunately, I was braking too late and I crashed into Aegerter. It's a pity, because for the first time, we were quite fast to eventually end up on the podium. But first of all, I need to apologize to Dominique Aegerter and his team and also to my team! I'm truly sorry! I would like to start Le Mans now, because I feel very bad. But we need to look ahead."
---
"Another crazy race for the MotoE class. Clearly, the weight of the bike and the short racing makes it really spectacular. That's a good point. For the first time, Tommaso had a great start, he was in third position and in contention for another top 5 finish, but I think he was way too optimistic when Casadei passed him. The only way to behave was staying behind and seeing what is going on, but he tried to repass him in a place where you clearly cannot do it with a MotoE bike. I'm really sorry for Dominique Aegerter and the Intact Team, because they are fighting for the championship and the last thing we wanted to do is take them out while Dominique is riding so well at the moment with the MotoE. To come back to us, the Tech3 E-Racing Team, Tommaso did a great lap one and that was it. It was a shame and I think he will learn from that. On the other side, I would like to thank Lukas a lot, because he had a nasty crash yesterday, he injured his right hand and although there is a small fracture, he decided to race after he was declared fit. He got a point, which is a great achievement, which shows the courage, dedication and involvement with the team and I would like to thank him a lot. I know he will have a small operation to fix everything before we come back racing with our MotoE bikes in Le Mans. I would like to wish our two guys, Lukas and Tommaso a rest, think about how to handle these MotoE bikes and see you in Le Mans."