The Tech3 E-Racing duo delivered a strong performance in today's first FIM Enel MotoE World Cup race of the weekend, as Tommaso Marcon equaled his best result with fifth and Lukas Tulovic was fighting through the pain to a strong top 10 result.
Following a crash on the first lap and a red flag, Marcon played it clever for the start of the first race of the weekend this afternoon to make huge step from 14th on the grid to sixth in the opening lap and even improved to fifth on lap two, a strong position, he managed to bring over the line. At the same time, Tulovic was not only fighting with pain in his right hand, but also having to avoid some contenders crashing on the first lap. Yet, he remounted in 12th position and was fighting hard to eventually make up two places to 10th on the fourth lap, which he finally brought home.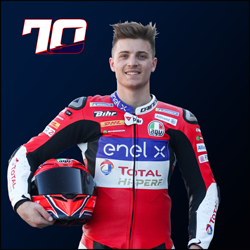 Position: 5th
Championship: 13th
Points: 33
---
"The race was very strange with only five laps. I was starting from P14. In the first corner, there were some crashes and I was lucky to be able to avoid it. In the end, I made a good pace, I increased my lap time by one second from the E-Pole and I made it to P5, so I'm happy. Thank you to the team and all the sponsors. Now we work for tomorrow."
Position: 10th
Championship: 11th
Points: 34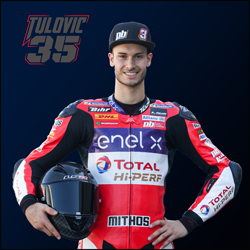 ---
"This morning, I never expected to finish the race in 10th position in dry conditions, so I'm really happy and really surprised. Of course, we benefitted a bit from the crashes, the first one with Casadei for the red flag. After the restart for the five laps race, three riders crashed, but it also cost me some time, because I had to avoid the bikes and went off track. Then I was fighting back a bit, overtook two riders, almost three and finishing the race in P10, taking some points for the championship is more than I expected, so I'm really happy for this."
---
"A positive result for the Tech3 E-Racing team here in Le Mans for the first race. We knew it was going to be difficult with Lukas because he is riding with a broken hand that was operated just a few days ago and the pain is quite strong. Although he was fit, he didn't think he was going to hold on the whole race and we told him 'Do, what you can and pit in if the pain is too high.' I would like to thank him, because he has been pushing, trying and he not only stayed on track and saw the chequered flag, but he ended up in the top 10, doing some interesting lap times. So, thanks for that Lukas, this is very much appreciated from the team. On the other side of the garage, Tommaso for me did his best race of the season by far. It was a tough mission for him, because he has never been to Le Mans before. Day one was with tricky weather conditions, so it was difficult to learn, it was wet, damp, so he started the E-Pole with very little track knowledge. He did an ok E-Pole lap, but had a really good race. Each single lap, he was getting quicker and quicker and what is quite impressive, he managed to keep Granado behind him, although the last three laps they were side by side almost and we know how fast Granado is on a MotoE bike. Tommaso has clearly made a big step. Congratulations to him. We have another race tomorrow, so let's hope Lukas can finish the second race and Tommaso can do another top 5 tomorrow, which would be great to end up the 2020 MotoE season."