Starting the final race of the Enel MotoE World Cup 2020 from P10, Tech3 E-Racing's Lukas Tulovic was giving his all to fight through the pain in his right hand, going back to 12th on the third lap, but making up one position on lap four to finally see the chequered flag in 11th. The German concludes his first MotoE season in 11th overall.
Meanwhile his Tech3 E-Racing teammate Tommaso Marcon launched off from fifth position on the grid after his P5 in yesterday's first race at the Le Mans circuit. He came off the line well, but unfortunately crashed on the opening lap to end the season in 16th of the overall standings.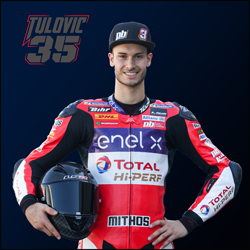 Position: 11th
Championship: 11th
Points: 39
---
"The last race of the season for MotoE is done. Regarding the conditions I'm in, I'm quite happy with 11th position. Especially when I look at the gap and the lap times I did compared to yesterday. I was even more than one second faster than in race one, so I'm satisfied. I nearly crashed one time in turn seven, then I closed the gap again, but with the hand it was so difficult to overtake and brake hard, that's why I was the last rider of a four-man group, but ok. I'm happy with the result and now I have to get fit again. Especially at the end of the season, I want to say thank you to Hervé and all the team for the hard work, the positive memories and the trust in me."
Position: DNF
Championship: 16th
Points: 33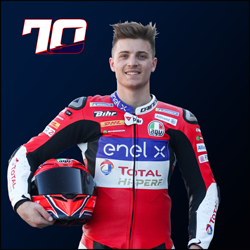 ---
"The race was quite quick for me. I made a good start and was fourth in the second corner, but a bit later, my front closed. I don't know why. Now we need to check the data. I was just waiting to do some laps behind the front group. I don't know what to say, I'm very disappointed to end the season like this. I want to apologize to Hervé and all my guys. I want to thank Hervé for this season, for this possibility. I really enjoyed riding MotoE and I hope to continue."
---
"The 2020 season for MotoE is over. We started on a very good foot with Lukas in Jerez and all season was an interesting fight in front with Lukas until unfortunately we had a big crash and Lukas broke his hand. Nevertheless, he was very brave and I would like to thank him for his dedication and his involvement, because although he hand was very painful and he was almost not ready to race, he came to finish the season with us, which is something I appreciate a lot. 10 and 11 here in Le Mans is not showing his level, but is showing his dedication, which helped him to grab a few points and to celebrate the end of the year with us. We have been happy to work together for a racing season. Tommaso improved every single round and after his fifth place in Misano, he was looking to step up in his classification, which is what he did yesterday in Le Mans by finishing fifth. Unfortunately, today, although he got a great start, he crashed. Tommaso is also a very nice person and I also like to thank him for his involvement on our side. Now it's time to work on his full recovery for Lukas, thank you to both Lukas and Tommaso for being good team players and having spent some great time together in 2020. Let's see what 2021 is going to bring us in the Enel FIM MotoE World Cup."