Mixed weather also played a huge role at the opening day of the final round for the FIM Enel MotoE World Cup at the Misano World Circuit Marco Simoncelli today. Following a rather tricky, but dry FP1, Tech3 E-Racing's Lukas Tulovic aimed to try some changes on his bike in FP2. But after a rain shower the track was wet for the second session, so he remained in P9 overall, but finished FP2 in a strong fourth position.
Meanwhile, Corentin Perolari learned the Italian track in this early morning's first session and concluded inside the top 15. On wet tarmac in FP2, the young Frenchman had to relearn and eventually ended up 17th ahead of tomorrow's E-Pole at 11:45 local time and the first of two races at 16:20 local time.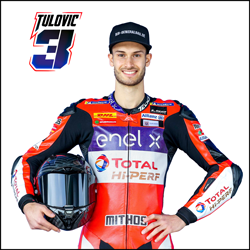 Position: 9th
Time: 1:45.065
Laps: 17
---
"Unfortunately, our plan for today didn't work out finally, because we tried to start step by step, regaining the feeling for the bike and the track. It worked out in FP1, so we wanted to make our time attack in the afternoon, but it started to rain, which was not foreseen by the weather forecast. So, we tried to make the best of it. I started slower, but was improving lap by lap and managed to finish fourth, therefore, I feel really comfortable with the bike in the dry and the wet. I'm sure our speed is there also on try tarmac, so I'm optimistic for tomorrow."
Position: 15th
Time: 1:46.926
Laps: 20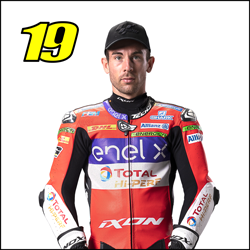 ---
"It was a pretty tough day. This morning I first had to learn the circuit, as I didn't ride here before. I didn't feel really well with the setting of the bike this morning, so we tried to change some things this afternoon. We went back to the old settings, but the track was wet, so I tried to get used to the rain settings. Overall it was just a learning day."