Today's Qualifying for the final two races of the FIM Enel MotoE World Cup in 2021 at the Misano World Circuit Marco Simoncelli has been changed to a 15 minutes session instead of the usual E-Pole format.
Thereby, Lukas Tulovic was just on his way to the top, but crashed in the final sector. He had to start today's race from 10th on the grid, came off the line well, but was involved in some trouble in the first lap and therefore was back in P11. But he made up some time and positions and eventually finished in eighth, which consolidates his fifth place in the overall standings.
His Tech3 E-Racing teammate Corentin Perolari instead gained some places on the first lap. He was starting from P15 and completed lap one inside the top 10. Later on, he was passed by three riders. But following seven exciting laps he crossed the finish line in 12th. The French MotoE rookie lies in P13 overall ahead of the final race, which takes place at 15:30 local time tomorrow.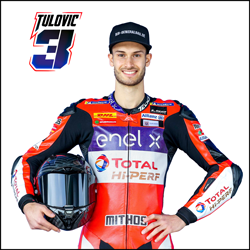 Position: 8th
Championship: 5th
Points: 61
---
"After yesterday I was very optimistic, that we are fast in the dry and in the wet. We had a more normal Qualifying format, where I had a good first lap and found a good position for the final one. I was really fast, but unfortunately crashed in turn 14 of what would have been a front row start. Finally, I was starting from 10th, so we knew it would be tough. I did a fantastic start from there, made up a lot of positions in the first corner, but in between turn one and two, I was pushed wide by another rider, had to open and go straight, so I lost a lot of time."
"Then there was another big crash in turn three, so that's exactly what can happen when you are starting from these positions. It was a very bad first lap for things I couldn't control. I tried to fight back for some places, in the end it's P8, which is not what I was expecting and what I am happy with. But we have another chance tomorrow."
Position: 12th
Championship: 13th
Points: 25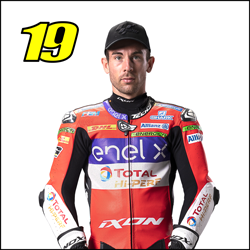 ---
"I'm happy about this race. In the Free Practices yesterday I didn't have a really good feeling on the bike, but now I felt really good on it. At the same time, I'm very glad I didn't crash as I was in the middle of this crazy tumble in turn three. It was not easy to avoid the other riders. During the race I did some small mistakes and Lukas and some other riders came past me, but I have to say, I'm satisfied with the final result."
---
"Today's race was damage limitation. Qualifying didn't go the way we expected with Lukas crashing while he was on course for a front row start. Corentin did what he could, but clearly his position reflects his level at the moment. He is learning, but we would like him to learn quicker."
"Honestly, it's a bit of a disappointment for Lukas, because I was expecting him to catch back a bit better. Clearly, he had a great start, but unfortunately, he was pushed out and had to cross the first chicane, which was a sad story for him. Afterwards I was hoping he could catch the guys in front of him quicker and especially that he could catch Hernandez by the end of the race."
"Anyway, a top 10 with P8 is not too bad. Hopefully he learned a lot today and we were safe, as the rain avoided us, which was important. We will have another go tomorrow to be at least fighting for the top 5, which is what we should be aiming for in each race."