Following his stunning win in Austria, Tech3 E-Racing's Lukas Tulovic was unluckier at the Misano World Circuit Marco Simoncelli this weekend. Starting the second race of the Grand Prix and the finale round of the FIM Enel MotoE World Cup from P9 on the grid, he concluded lap one in eighth and later on was fighting to keep this position. A crash with three laps to go destroyed all his hopes for a strong result. Yet, the German managed to pick his bike back up and finish the race in 15th position and with this, the season in eighth overall.
Corentin Perolari, who was a newcomer to the FIM Enel MotoE World Cup this season, started the final race in 2021 from P14. A position, he managed to keep in the first laps. Due to some mistakes and crashes ahead of him, the Frenchman moved up to P12 with three laps to go and eventually even ended up 10th at the end of the eight laps sprint race. Perolari concludes his first MotoE season in 13th of the standings.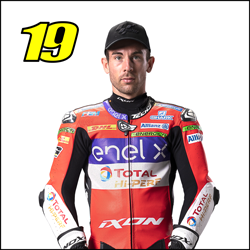 Position: 10th
Championship: 13th
Points: 31
---
"I'm very happy about this last race, because I did my fastest lap of all the weekend in this race. My feeling was a lot better than in Free Practice one and two on Friday and in Qualifying on Saturday. I managed to finish the season pretty well for myself, regarding that it was my first year in this category. I hope I can be back again in MotoE next year with Tech3 E-Racing."
Position: 15th
Championship: 8th
Points: 62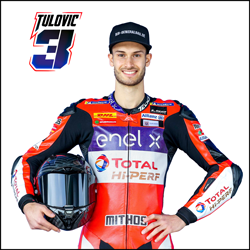 ---
"It was a disappointing weekend here in Misano. Yesterday I finished eighth and today 15th. I had two crashes, one in Qualifying and one in the second race – much more than I use to. I was lacking some feeling with the bike, especially with full lean angle when turning. I was struggling and I'm used to a different feeling. I had to push more in other areas like on the brake to stay with the other riders. I saw that some riders have been directly ahead of me, so I thought a top 5 would have maybe been possible in this final race. I was pushing, unfortunately a bit too much on the brake in turn four and I lost the front. It's a pity for the championship and to throw it away here in Misano. I'm very disappointed and we have to analyze what we did wrong in order to make it better in the future."
---
"The FIM Enel MotoE World Cup season 2021 is now over. This last race was not what we expected and it was a bit of a repetition of what we saw yesterday. Although Lukas got an ok start, he was never in contention for a top 5 finish. He was fighting for seventh and eighth position, but crashed. He still managed to pick up the bike and finished 15th. Corentin, thanks to a few DNFs ahead of him, ended up 10th, which a pretty good overall result. But clearly, we were again hoping for better."
"Thanks to Lukas, thanks to Corentin and thanks to the whole team. We had some really good moments together with some strong Qualifyings from Lukas and of course this unforgettable win in Austria. Corentin did his learning process this season. Now we have to think about how to improve next year. Thanks everyone for their great effort and let's enjoy the MotoE winter!"