The new season of the FIM Enel MotoE World Cup kicked off today in Jerez at the Spanish Grand Prix with a brand new format, and it kicked off well for Tech3 E-Racing who will start Race 1 from the front row with Hector Garzo, while young Alex Escrig is set to make his MotoE debut from P9. Fridays will now combine two free practice sessions which will determine qualifying entries, at the end of which grid positions for Races 1 and 2 will be decided. The first race of eight laps will be on Saturdays, and the second one on Sundays.
The first free practice session started freshly this morning at 08:25 local time (GMT+2), on a track still a bit humid from overnight and the morning humidity. Back with Tech3 E-Racing, Spaniard Hector Garzo was cautious and went out on track quite late for only four laps (1'55.390). Things got serious at Free Practice 2 and Hector went full in, registering his best lap time on his fifth lap (1'48.972). It meant that he finished in P2 at the end of the combined free practices and qualified directly for Q2. At 17:10, Hector went back on track for Q2 and managed to improve his time by 0.537 seconds on his third lap which brought him to Parc Fermé for his return to the MotoE category. Tomorrow, he will start the race from the second position, and will be aiming to start the season with a bang.
On the other hand, Alex Escrig had a promising first day today. Just like his teammate, he did not do too many laps in the first session and focused on the second free practice, at the end of which he reached the ninth position (1'49.613), missing out on a Q2 ticket by only 0.053 seconds. When qualifying 1 started at 16:50, Alex improved very quickly and produced a brilliant performance with a best lap time of 1'49.204 which got him a ticket for the next qualifying session on his MotoE debut. The MotoE rookie will start his first electric race from the ninth position tomorrow.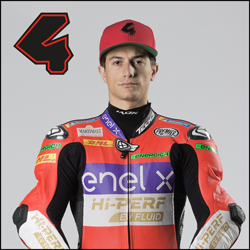 Grid Position: 2nd
Time: 1'48.435
Laps: 6
---
"It was my first qualification in the MotoE World championship in two years and we did a really good job today. I am really happy to start from the second position tomorrow"
Grid Position: 9th
Time: 1'49.413
Laps: 4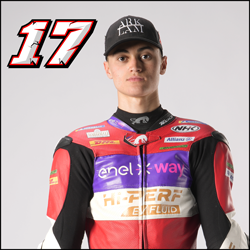 ---
"I am happy with the result because we are quite close to the top guys and we worked well today. I made a mistake in the first sector of my best lap, so I know that I can do a better lap. Today was a positive day and we will start tomorrow's race from P9. I am hoping to learn from the race, and we will try to gain a few positions."