Tech3 E-Racing lined up for its first 2022 race of the FIM Enel MotoE World Cup at the Circuito de Jerez – Ángel Nieto. The race was scheduled at 16:25 local time (GMT+2) for eight laps.
Back with the French squad after two years, Spaniard Hector Garzo returned to electric racing today starting from the second position. He took a strong start which allowed him to quickly take the front of the race and even got his fastest race lap on the second lap (1'48.120). Unfortunately, a contact between fellow riders Miquel Pons and Mattia Casadei forced him to deviate to avoid crashing but it meant that he lost a few positions to find himself in fifth with only three laps to go. He was unable to catch the lost time and crossed the line fifth. Due to Miquel Pons' 3-second penalty, he finished the first race in P4.
Rookie Alex Escrig took his first MotoE start today from the ninth position. He did not take the start he had hoped for and lost a few positions, which meant that he had to focus on overtaking the riders in front. He recovered the time lost to P9 and was able to ride at his own rhythm but was unable to catch the other riders. With Pons' penalty, he finished the first race seventh and will be looking forward to doing even better for the second race.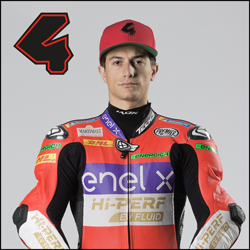 Position: 4th
Championship: 4th
Points: 13
---
"Unlucky race today because I started very well, had a good pace and tried to impose my own rhythm in order to be alone. The MotoE category is difficult because the races are short and everyone is very aggressive. I tried to stay amongst the first positions but I was very unlucky when Mattia Casadei and Miquel Pons came together because I went long to avoid crashing too, which means that I lost positions with only three laps to go."
Position: 7th
Championship: 7th
Points: 9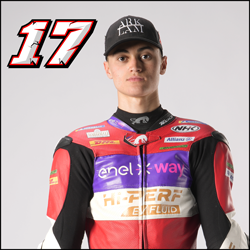 ---
"I did not have a great start and lost positions, so I had to focus on trying to overtake quickly which means that I lost some time. When I found myself alone after that, I was fast and close to the top guys. Tomorrow we have another chance for the second race, so I will give my best because I know that we can fight for the top positions."