The FIM MotoE Enel World Cup made its second stop of 2022 in Le Mans in France this week for the SHARK Grand Prix de France, Tech3 E-Racing's home race. Following a positive start in Andalusia two weeks ago, both Hector Garzo and Alex Escrig were back in action today on their electric bikes, ready for a new busy Friday filled with two free practice sessions, directly followed by the qualifying sessions.
After two Top 10 in Jerez placing him seventh in the electric championship, rookie Alex Escrig returned to action this morning for the first two free practice sessions. In the early session, the youngster took his time to discover the French layout, at the end of which he got his best lap time in 1'47.968. Later on in FP2, he went faster (-3.132 seconds), which placed him in P9 at the end of the free practice sessions, meaning that he had just missed out on a direct qualification to Q2. For his second qualifying 1 session of the season at the end of the afternoon, Alex set off with the aim to reach for a second time the final qualifying stage. He provided a great pace, but came short by 0.044 seconds to finish 3rd. This weekend, he will start the two races of the SHARK Grand Prix de France from the eleventh position on the grid.
Hector Garzo was coming to Bugatti circuit with the French squad Tech3 E-Racing for the first time, as the launching year of the FIM MotoE Enel World Cup did not stop in France in 2019. He did a good first free practice session at the end of which he reached his best lap time in 1'46.325 to finish in P6. In FP2, he slightly improved but it was unfortunately not enough to make it to Q2. When qualifying one time came around at 16:50, Hector had a very good pace just like his teammate and even found himself in the provisional Q2 spots as he rode in 1'44.388 on his second fast lap. Unfortunately, it was not enough and he will have to start from P12 on the grid, next to his teammate.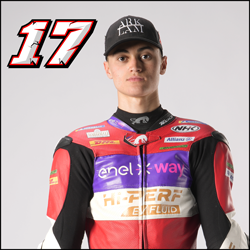 Position: 11th
Time: 1'44.371
Laps: 5
---
"It was my first time in Le Mans and we did pretty well for the first time. We missed out on Q2 unfortunately because I made some mistakes in the fast laps in sectors one and two. I feel strong for the races anyway, and if we can stay with the leading group, we can do a good result."
Position: 12th
Time: 1'44.388
Laps: 5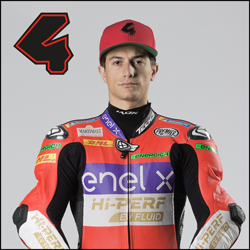 ---
"It was a strange Friday here in Le Mans. We did not have a great FP2 so I was unable to qualify directly for Q2. In the first qualifying session, we wanted to be fast and close to the others, and this is what we did. Unfortunately, we missed Q2 by a few thousands of seconds, but I am sure that we have potential for two good races this weekend."