The FIM MotoE Enel World Cup resumed in Assen today for the fourth of the six rounds scheduled for 2022. Half way through the season, Hector Garzo sat eighth in the standings while rookie Alex Escrig was eleventh. Both have had a challenging first three rounds, sometimes under expectations, and were eager to make the most of the three remaining.
The rain hit heavily the TT Circuit Assen on Friday morning just before the first free practice session, meaning that riders encountered very tricky conditions for their return on the electric machines. Hector Garzo rode in 1'53.805 and took P10 while teammate Alex Escrig struggled a bit more under the rain and finished the session with a P13, 0.661 seconds behind Garzo. Unfortunately, the weather did not get better meaning that the second free practice had to be cancelled. FP1 positions determined qualifying entries and both riders had to go through the first qualifying session.
The action resumed at 16:50 local time (GMT+2) for the first qualifying session with a drying track. Alex Escrig did not seem to find comfortable on his bike and struggled to get a fast lap, meaning that he will start from the fourteenth position this weekend. Teammate Hector Garzo was confident in his pace and showed potential on the Cathedral of Speed when he grabbed his ticket to Q2 with his lap in 1'45.161. During the final ten minutes of the day, he worked on getting the pace with used tyres to prepare his races, and finished in seventh position. Race 1 of the Dutch Grand Prix is scheduled on Saturday at 16:25 for eight laps.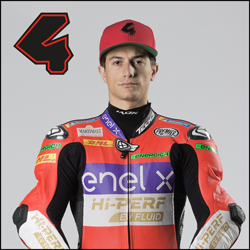 Grid Position: 7
Time: 1'45.161
Laps: 4
---
"This morning was challenging as FP1 was completely wet, FP2 cancelled and we had to go directly to the qualifying sessions. I was fast in Q1 and felt good on the track and went to Q2. Then in Q2, we worked on our race rhythm with used tyres and it was positive. We start from the third row and we are in the game, so let's do a good race tomorrow."
Grid Position: 14
Time: 1'45.655
Laps: 6
---
"The first practice session was difficult as it rained a lot but I felt good. During qualifying, I was uncomfortable on the bike and lost time. We need to find out how we can correct this and take a look at Hector Garzo's lap."